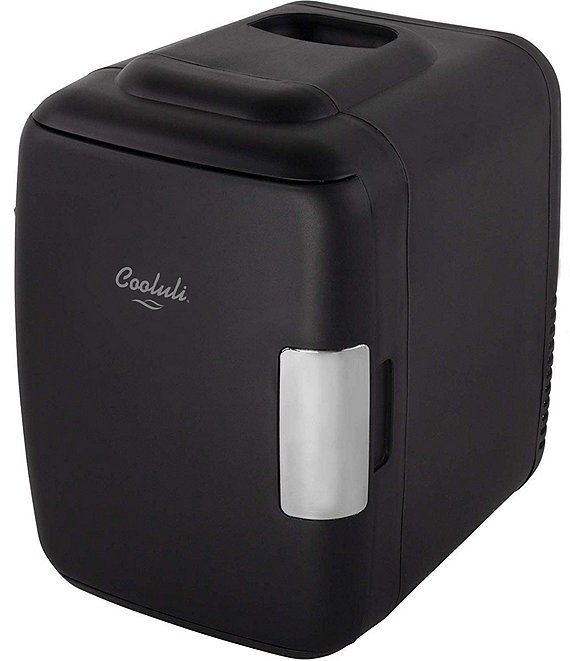 Cooluli
Classic-4L Mini Fridge
Full Star
Full Star
Full Star
Full Star
Full Star
2 Reviews
The Cooluli Classic-4L Thermo-Electric Cooler/Warmer holds six 12-ounce cans and is perfectly portable for personal use. The Classic-4L can be kept anywhere—on your desk, in your office, or in your car.
AC and DC power cords are included. It's easy to switch from using the Classic-4L in your home, dorm room or office, to using it in your car or motor vehicle. It also includes a USB charging cord which allows for on-the-go power via a 2A-power bank in ECO mode.
Exclusive EcoMax™ Technology features our unique cooling system, making the Classic-4L efficient, quiet and cost-effective. Our exclusive semiconductor operation means the Classic-4L is refrigerant- and Freon-free!
Features: Convenient + lightweight: The cooluli classic 4-liter thermo-electric cooler/warmer mini fridge sports a matte finish and a modern profile that's perfectly portable. Perfect for skincare & beauty essentials: Store your skincare, personal care & beauty product faves! From moisturizers to masks… serums to creams…& everything in between! Advanced technology: the unique semiconductor operation is energy-efficient, ultra-quiet and 100% environmentally friendly. Ac + dc + usb: the cooluli classic-4l covers all your bases! Ac and dc power cords are included for indoor or outdoor use, plus it comes with a usb cord for ultra-flexibility. Materials:Aluminum & plastic Cools down to:40° below ambient temperatureWarms up to:149° on internal thermostat Energy consumption: Flexible input:Ac 100-120vDc 12v/7a48w max Product dimensionsWeight: 4.1 lbs./1.9 kg
Inner dimensions:
Approx. 5.3" L x 5.7" W x 8.3" H
Approx. 135 x 145 x 210 mm
Outer dimensions:
Approx. 8" L x 10.2" W x 11" H
Approx. 202 x 260 x 280 mm
Ratings & Reviews
Tell us what you think!
Full Star
Full Star
Full Star
Full Star
Full Star
Rated 5 out of 5 stars
Write a Review