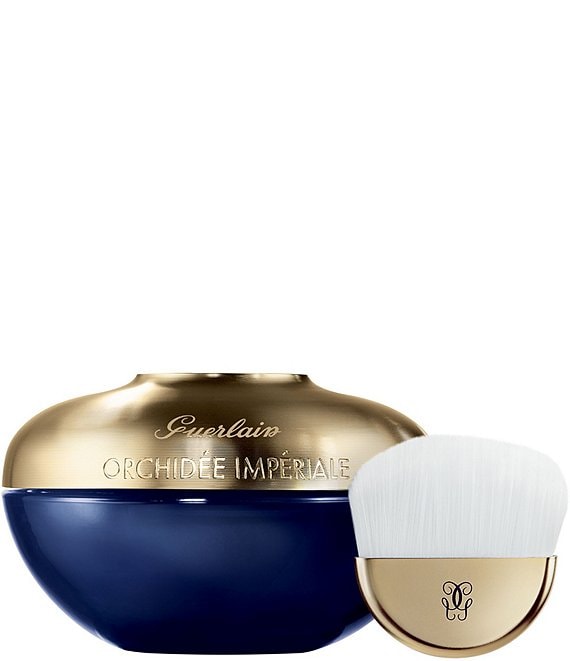 Guerlain
Orchidee Imperiale The Treatment Mask
Description
The Orchidee Imperiale Mask has been formulated to meet the needs of skin which has been damaged by emotional and environmental stress. The Mask envelops the skin in a moment of pure indulgence and mitigates redness and discomfort. Instantly soothed, the skin feels soft, supple and comfortable. Optimally nourished and replenished, the skin is more firm, smoother and its radiance is restored. The complexion is 51%* more radiant right from the first application. *Self-assessment carried out by 43 women, results after first application.
Apply the mask after the Orchidee Imperiale Longevity Concentrate.
1. Before applying the mask, use your fingertips to slowly and firmly press on pressure points located on your chin, upper part of your face, temples and lip contour. Breathe in when you press and breathe out when you release the pressure.
2. Apply the mask with a brush. Gently slide the brush over the mask to obtain the required amount. Apply a thin layer, moving from the center of the face to the outer part of the face. For an instant radiance boost, cleanse the skin and apply the mask directly after, leaving it on for 10 minutes. For overnight replenishment, use the mask as night care, 3 times a week.
3. Remove any excess with a dry cloth, then massage it until it has been completely absorbed.
*Brush care:
after use, rinse the brush and leave to dry naturally before placing it back into its pouch. Orchidee Imperiale is an exceptional complete care range, renowned for its effectiveness on the signs of skin aging and the sensory pleasure of its textures.
A true phenomenon of longevity, the orchid is the most highly developed species in the plant kingdom.
Convinced of its outstanding potential, Guerlain has established its first-ever research center dedicated to a single ingredient: The Orchidarium®.
On first application*:
+51% radiant complexion +38% even skin 56% nourished appearance
More than 9 women out of 10 found their skin to be softer, suppler and felt greater comfort**
*Self-assessment by scoring, 43 women, results after the first application
** Satisfaction survey, 43 women, results after the first application