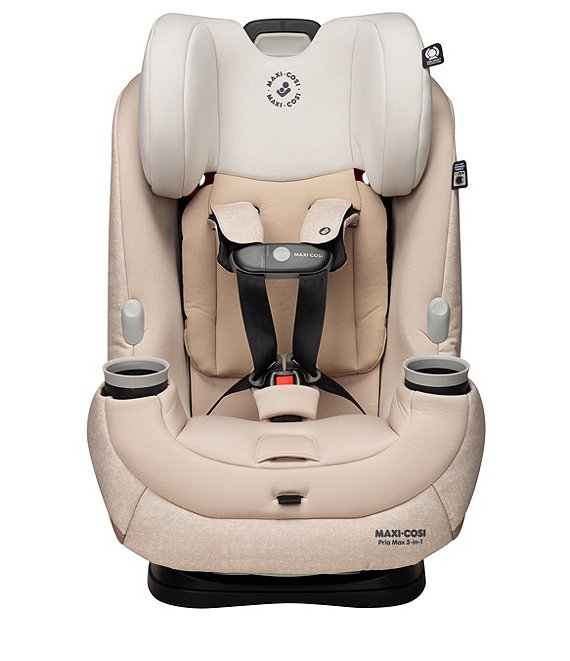 Maxi Cosi
Pria Max 3-in-1 Convertible Car Seat
Full Star
Full Star
Full Star
Full Star
Half Star
111 Reviews
From Maxi Cosi, this car seat features:
With the Pria Max 3-in-1, you can take comfort in knowing that you'll have a safe, comfortable car seat for your child, from birth to 10 years old.
Children can ride rear-facing, from 4-40 pounds; forward-facing to 65 pounds; and up to 100 pounds in booster mode.
Converting to each new stage is simple and intuitive, so you can quickly make car seat adjustments.
It allows for a wide range of adaptability with its 3-position recline, 5 ajustable headrest heights, along with a QuickFit shoulder harness.
Drive with confidence knowing that the Pria Max 3-in-1 is backed by over 30 years of European engineering and exceeds all federal standards, including FMVSS 213.
GCell® side impact protection is built into the headrest to cushion the impact and protect your child around the head where it's needed most.
The QuickFit shoulder harness automatically raises the harness and headrest height to fit your growing child. Harness holders on the side keep the straps out of the way when placing your baby in the car seat. The ClipQuik™ auto-magnetic chest clip makes it easier to get your child in and out of the seat by easily opening with just one hand. Strapping them back in again is easy too. The ClipQuik magnets slide together and lock on their own so you can get on your way quickly.
Soft-to-touch cushions and premium knit fabrics and padding throughout provide supreme comfort for your child during the journey.
2 up holders that are dishwasher safe
Easy in and out of seat, quick & simple to install
The Pria Max 3-in-1 fabrics are designed to keep your little comfortable and cozy. The covers are easy to remove, machine washable and dryer safe.
Weight Class:For children from 4 to 100 lbs.
Imported
*Returns not accepted on any opened,used, or defective product. Contact manufacturer directly for further defective products/parts.
Ratings & Reviews
4.45
Full Star
Full Star
Full Star
Full Star
Half Star