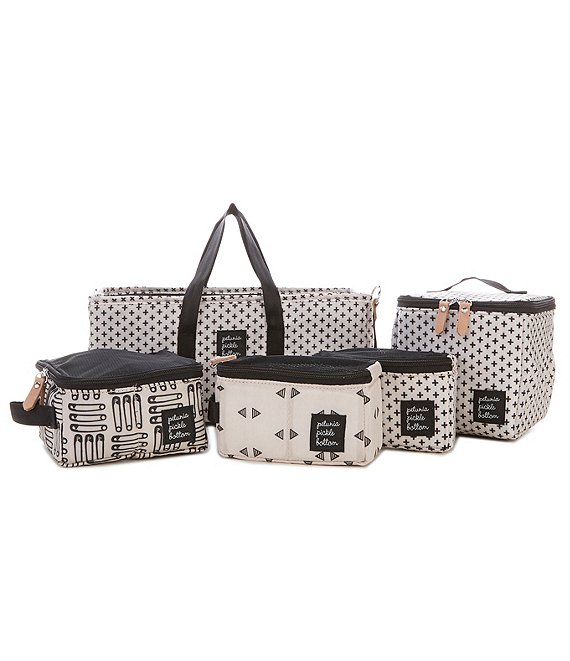 Description
From Pentunia Pickle Bottom, this kit features:A system of bags and packing pods to mix, match, and make your own. Created for every type of parent, outing, or situation, Inter-Mix helps organize the stroller, nursery, and diaper bag, and even offers the flexibility for pieces to be passed along to other caregivers.
Deluxe Kit includes 2 Mini Pixels, 1 Midi Pixel, 1 Cool Pixel, and 1 Grid Caddy
3-in-1 Grid Caddy helps organize the stroller, the bag, or the home nursery
Open caddy features 4 sections for Pixels and necessities of varying sizes
Pixels feature zip-around openings and mesh tops for easy visibility
Grid features wide side handles for hand-transport, and is designed to fit inside Inter-Mix Backpack and Axis Backpack (sold separately)
Integrated straps attach Grid Caddy to stroller, and discreetly attach to the base of the caddy when not in use.All pieces are machine-washable
Exclusive PPB-designed print on a lightweight, machine-washable printed textile with wide side handles
Dimensions: Grid Caddy: 12"L x 5"W x 5.5"H, Weight: 7.8 oz Midi Pixel: 6"L x 5.6"W x 3"H, Weight: 1.8 oz Mini Pixel: 2.5"L x 5.5"W x 3.25"H, Weight: 1.3 oz Cool Pixel: 5.5"L x 5.5"W x 5.5"H, Weight: 2.2 oz
Imported.